Excursions for cruises from Messina, Catania, Taormina and Giardini Naxos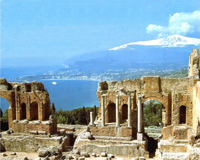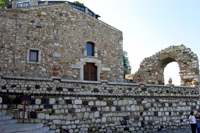 Taormina - Castelmola
Departure time 8:30­ - Return time 16:00
Departure from the port of Messina or Giardini Naxos, we will start the trip to Taormina, through the beautiful street along the bay of Naxos, where there is the little island "Isolabella" and the view of mount Etna. Once arrived in the town centre, a plesant walk through via Umberto, a street full of shops, will lead to the greek-roman theatre, the english garden, the Duomo, the Naumachie, IX April square, going through the two norman gates.
Now it will be time to go up to Castelmola, which offers a unique view from the norman castle and the Duomo. You can choose to sit in one of the bars and taste the famous "Vinodimandorla". The town has an ancient atmosphere, that makes Castelmola oneof the most beautiful villages in Italy. On the way back we will stop at the Sanctuary "Madonna Rocca".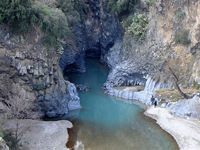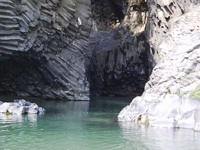 Alcantara valley & unknown villages
Departure time 8:30­ - Return time 16:00
Starting from the port of Messina or Giardini Naxos, we will go along the road that joins Naxos to the Alcantara Valley. Our first stop will be at the Alcantara Gorges, a wonderful natural canyon, where you can admire majesty of the river that flows through the lava stone. Going ahead in the valley, we will visit the little village Motta Camastra, layed on a rock at 453 m of altitude.
Going to Castiglione di Sicilia we will pass through the village Francavilla di Sicilia. The name Castiglione comes from "Castel Leone ", a castle which dominates the town from up above. From here there is a fantastic view of mount Etna. The most important monuments are the chirches S.Antonio, S.Pietro and a square enclosed by ancient walls from XVII century.
Along the way to Mojo Alcantara we will see the ruins of a bizantine chirch from VII-VIII century. On the way back, we raccomand a typical sicilian lunch in a famous local restaurant.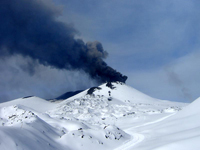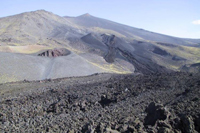 Etna & wine tasting
Departure time 8:30­ - Return time 16:00
Leaving from the port of Messina or Giardini Naxos, we will start a plesant tour to the volcano Etna along the ionian coast. We will pass the towns of S.Venerina and Zafferana, going through the "Parco dell'Etna" with its enchancting nature and beautiful view of the east sicilian coast.
We will get, after about 1 hour drive, to the craters "Silvestri" at 2000 mt, where there is an interesting volcan formation. From here you will choose to go up the summit craters, by cableway, or admire the different old lava flows by a plesant walk, and perhaps tasting some typical local product. On our way back, we will stop at a local winery, where you will taste typical products, accompanied by the famous "Etna doc" wine.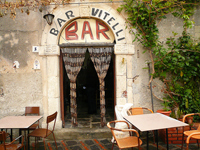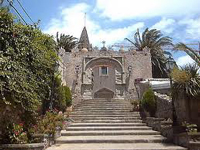 Godfather tour
Departure time 8:30­ - Return time 16:00
The tour will start from the small but interesting town of Savoca; first thing to see is the "Bar Vitelli", where you can sit down and taste a fresh granita, while thinking that here Michael Corleone asked Apollonia's father for her hand in marriage.
With a short walk through the narrow streets you can enjoy looking at the wedding church where they got married, which name is Santa Lucia. Nothing to do with the films but not less important is the Cappuccini Monastery, which features an impressive collection of same ancient mummified monks.
Forza d'Agrò is the next town to visit, like many of the most charming villages in Italy, it sits on a hill overlooking Taormina & the ionian sea. Going ahead with our tour we will visit Forza d'Agrò, with its beautiful views, the arch Durazzesco and the church Triade another place chosen for a shot of the Godfather. Optional lunch and return